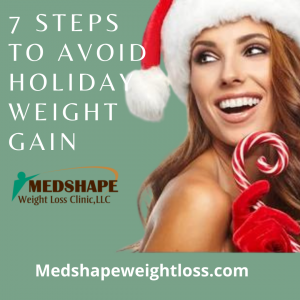 7 Steps to Avoid Holiday Weight Gain
The holiday season is a time for friends and family, and a time to get together with loved ones. It is also a time to eat, and many of us emerge on the other side with lots of extra weight to remember it by.
If you want to avoid packing on those holiday pounds this year, you will need to take some proactive steps. There are so many temptations during the holiday season, and avoiding them requires willpower, commitment and a solid plan. The tips listed below can help you get started.
#1 – Stay Busy
There are plenty of things to keep you busy during the holiday season, from finding the perfect gift for your loved ones to planning the perfect office party. Staying as busy as you can reduce the urge to overeat and help you burn calories as well.
Avoid the urge to grab a snack as you go about your holiday tasks. It is tempting to grab a cooling cookie off the dish by the oven, but giving in to the urge can really pack on the pounds.
#2 – Eat Before the Party
You will probably be invited to plenty of holiday parties this year, and chances are they will all have lots of great food to choose from. You should eat a bit before the party, even if you cannot wait to dig into your Aunt's broccoli salad or that great casserole your mom always brings.
Having a snack or small meal before the party can help you resist all those high calorie snacks and concentrate on the truly special holiday offerings. There is nothing wrong with treating yourself during the holidays; just do it in moderation.
#3 – Eat Slowly and Savor Every Bite
It can be tempting to down snack after snack, especially at those great holiday parties. You can enjoy yourself more and make every bite count by eating slowly and deliberately.
Your friends and relatives spent a lot of time and put a lot of love into their creations. Give them the attention they deserve by slowing down and enjoying every single bite. You will enjoy those holiday snacks more, and you can reduce the number of calories you consume.
#4 – Limit Your Alcohol Intake
Alcohol can pack on the pounds just as quickly as a big piece of gingerbread cake or plate of chocolate chip cookies. Limiting the amount of alcohol you consume in the lead up to the holidays can help you avoid adding those extra pounds.
Try to view those holiday drinks as a special treat, and enjoy them accordingly. Save room for that Christmas Eve hot toddy, holiday egg nog and New Year's Eve champagne. Just enjoy those special drinks in moderation.
#5 – Bring Your Own Snacks
One way to enjoy the party without packing on the pounds is to bring your own healthy snacks. There are some great healthy snack recipes out there, many with as few as half the calories of traditional party foods.
Make a plate of healthy snacks to share with your family members, friends and coworkers. They will love the lower calorie option – and so will you.
#6 – Make a Weekly Date with the Scale
Weighing yourself once a week will help you stay on track and motivate you to avoid all those holiday temptations. Keeping careful track of your weight during the holidays can also help you avoid unpleasant surprises – like a holiday dress that no longer fits.
Weighing yourself regularly can also keep you motivated and encourage you to get out and move. If you need a jump start to your weight loss goal, joining a gym or simply taking a walk can get you going.
#7 – Get Plenty of Rest
The holiday season can be a stressful time, and that can lead to a lack of sleep. It is more important than ever to get a good night's rest when you are trying to avoid weight gain. Not sleeping enough can mess with your metabolism, making it harder to shed those extra pounds and avoid holiday weight gain.
Make time for yourself this holiday season. You want to do for others, but do not forget about yourself and what you need. Take the time to de-stress and relax, and be sure you get plenty of sleep as the holidays tick ever closer.
Put these steps into place now and save your bosy the extra weight! Don't forget to check out MedShape Weight Loss Clinic's many different weight loss programs available. Our programs are built to help you stay on tack and shed the extra pounds. 
Get some shopping done for yourself in our online store at 
www.medshapeweightloss.com/store
All of our programs and medication can be mailed to you directly.