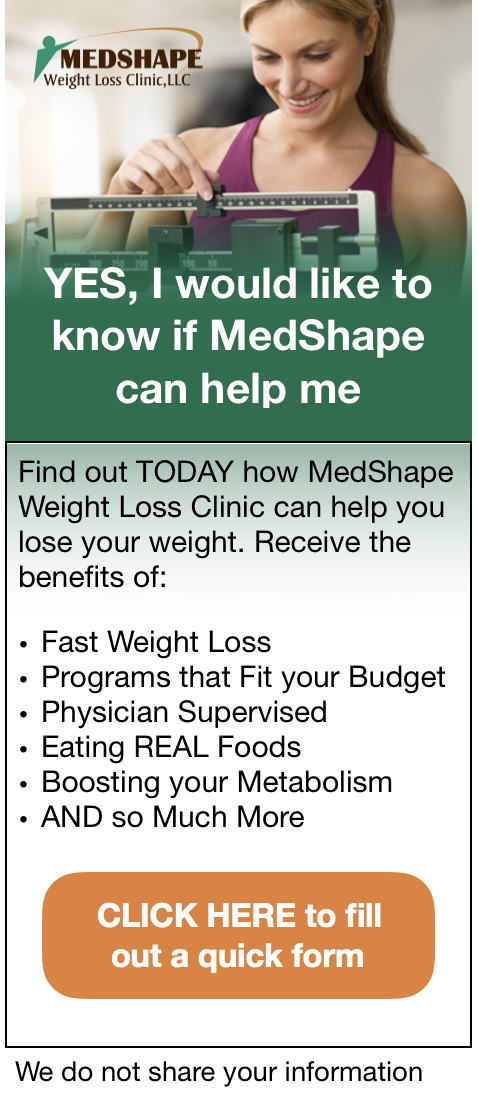 Weight Loss Shots For Maximum Results
MedShape has spent many years on researching ingredients in order to find the perfect solutions for causing fast weight loss to our patients. Also we know the importance of variety because each individual patient is just that, an individual. The large variety of Weight Loss Shots and Fat Burner Shots MedShape offers are designed to accelerate the body's ability to burn fat and speed up energy levels. Weight Loss Shots can provide many positive effects on your body for a quick weight loss.
YES… We do use hormone injections for a fast, safe weight loss. See our SLIM Now Therapy and learn more.
MedShape's Weight Loss Shots and Diet Shots are many different mixes of  that contain different blends of vitamins, B-Complex, L-Carnitine, Lipotropics, pure Branch Chain Amino Acids. We also want you to know that MedShape has created our own Proprietary and custom blends that are only available through MedShape Weight Loss Clinic. Furthermore, we have the ever popular Lipotropic Weight Loss Shot, MIC. Detox and clean your liver for a full body weight loss effect.
MedShape's Weight Loss Injections for Fast Weight Loss Results
By tailoring our Weight Loss  Shots and Diet injections to meet our patient's individual needs, it can:
Combat Carb Cravings
Revive your metabolism
Increase energy levels
Lose inches
Thyroid Support
Improve sense of well being
Decrease effects of stress
Kick-start weight loss
FAT BURNER SHOTS for FAST WEIGHT LOSS
Want to know more? Read our Frequently Asked Questions about our Weight Loss Injections.
MedShape's Weight Loss Injection program can be used alone or in combination with any other weight loss program MedShape offers. We have developed this program for you to achieve fast and motivated weight loss. All of our professional Weight Loss experts want to offer you the extra energy while losing weight, and is perfect for those looking to start any type of weight loss. Also our patients can lose up to 20 pounds just a couple short weeks on our Fat Burner Shots. Our Weight Loss patients can take MedShape Weight Loss Clinic's Metabolic Uplift Injections for as long as they like.
These can be done in the clinic by our professional staff or we can teach you to administer them in the privacy of your own home. We recommend that you receive at least one Fat Burner Shot per week to reach optimal weight loss results. Of course this is followed by our Signature diet that offers all of the proper nutrition for the optimal weight loss experience you will experience. Contact Us Today for more details on MedShape's Metabolic Uplift Weight Loss Injection Program to get started! Weight Loss Shots really work!
---
*Results may vary depending on adherence to the MedShape nutritional plan and current medical conditions. Click here to read full disclaimer.